Next Page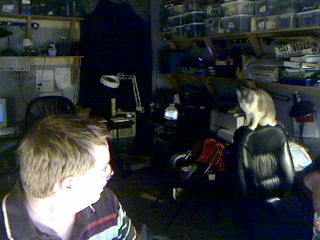 Office Capture
"Don't claw the furniture"

Nick: Anonymous_User6565719
Date: Thu Oct 11 05:57:07 2012

Maureen, you are usually a geinus but you are too close to this one and your own feelings are getting in the way. That guy who put up a fake profile and got hits from 10 Hot gals was flattering himself and lying to us. If he had bothered to check, got FAKE profiles from supposedly Hot gals. He got exactly what he deserved. When I decided to date again I put myself on a number of sites (various kinds) to experience what I could and discover the differences in the quality of the sites. I astually met some interesting people on POF. I am finding it harder on the Sex sites. There is a lot of bogus contacting done by the personnell on many sites. I am very glad that this is not one of them. On some sites my emails seem to dissapear into cyber-space never to be seen again. Some sites actually send site generated emails as if they were coming from someone whose profile you have viewed and perhaps favorited just to get business going. SexAds is my most recent venture and I am looking forward to a good experience here.
Nick: Anonymous_User6565990
Date: Thu Oct 11 09:37:08 2012

wvBnP4 jjzksvgahahc
Nick: Anonymous_User6569735
Date: Sat Oct 13 03:15:06 2012

MGELC6 pcdvszlkdsjp
Enter your comment here:
There are no specific posting guidelines... (yet).. however, excessively obscene, abusive, harrassing, trollish, or posts with illegal content may be removed at the discretion of the site owner.
Next Page
1
2
3
4
5
6
7
8
9
10
20
30
40
50
60
70
80
90
100
200
300
400
500
600
700
800
900
1000
2000
3000
3315